Why is there a red light on the car dashboard that looks like dripping water from a kettle?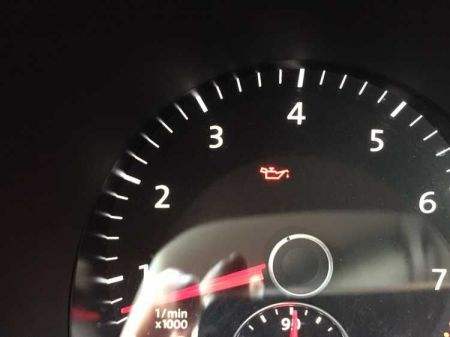 Usually before the engine starts, all the warning lights on the dashboard will light up. After the engine starts, these red warning lights will go out one after another. The sign of dripping water from a kettle is the oil pressure indicator, and the oil pressure indicator is often The last one goes out.
The reason why the oil pressure indicator light is on
The main reason for the oil pressure indicator to light up is that the oil pressure is too low or even no pressure at all. There are probably several reasons:

(1) Insufficient amount of oil will cause the oil volume of the oil pump to decrease or the pump will not be oiled due to air intake, and the oil pressure will drop.
  (2) If the engine temperature is too high, the oil will become thinner, causing the oil pressure to drop.
  (3) When the oil pump parts are damaged or the gap is too large due to wear, assembly and other problems, the Oil Pump will not output or insufficient oil, resulting in a drop in oil pressure.
  (4) Improper selection of engine oil. If the oil grade is not selected properly, the oil leakage will increase due to the low viscosity of the oil when the engine is running, resulting in a drop in oil pressure.
  (5) Oil leakage or blockage in the oil pipeline.
What to do after the oil pressure indicator light is on?
During driving, once the oil pressure indicator lights up, the following measures should be taken in time.

   (1) First turn on the emergency light, shift to neutral, taxi to the side of the road to stop, and the engine turns off.
   (2) Open the engine compartment cover, pull out the oil dipstick, and check the engine oil level. If the amount of engine oil is insufficient, try to replenish it before going on the road. And go to the repair shop for maintenance as soon as possible.
We are the OEM Oil Pump for cars supplier, if you are interested in our products, please feel free to contact us.